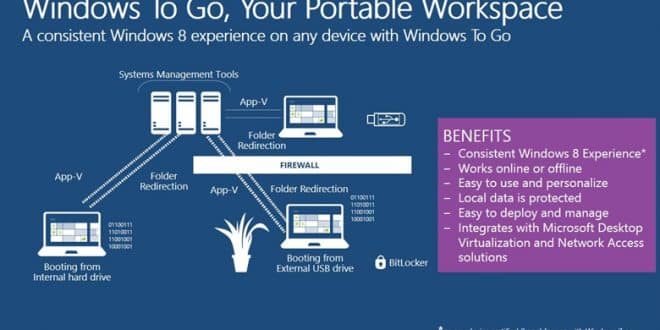 Windows To Go est une nouvelle fonctionnalité de Windows 8 qui permet d'emporter Windows 8 et vos applications préférées partout avec vous sur une clé USB.

L'inconvénient c'est que cette fonctionnalité est limitée à la version Enteprise de Windows 8.
Mais nous verrons dans cet article, qu'il est facilement possible de contourner cette limitation et d'installer Windows to Go à partir d'une version standard de Windows 8.
Branchez, démarrez et partez avec Windows To Go

Partie intégrante de Windows 8.1 Entreprise,
Windows To Go est un espace de travail personnel entièrement gérable et installé sur une clé USB de démarrage certifiée.
Cette nouvelle fonctionnalité de Windows 8.1 Entreprise est mise à la disposition des clients ayant souscrit au programme Software Assurance pour aider les entreprises à répondre à toutes les exigences de mobilité.
Soyez productif avec ou sans connexion réseau
Windows To Go diffère des autres solutions de mobilité, car il permet à ses utilisateurs de rester productifs sur n'importe quel site où ils choisissent de travailler.
Il suffit d'insérer une clé dans un ordinateur compatible et de la démarrer dans une image Windows 8.1 personnalisée.
Aucune connexion réseau n'est nécessaire.
Windows To Go est la version à emporter de Windows 8.1
Toutes les technologies inédites que vous utilisez dans Windows 8.1 sont compatibles avec Windows To Go : Stratégie de groupe, BitLocker, BranchCache, AppLocker, App-V, UE-V et DirectAccess. Windows To Go est littéralement la version de poche de Windows 8.1 Entreprise.
Nous allons donc voir ici, comment installer Windows to Go, avec WiNToBootic. Cette solution va vous apporter plusieurs avantages :
Vous allez pouvoir installer Windows to go avec une version non enterprise de Windows 8.
Vous n'avez pas besoin d'une clé certifié Windows To Go.
Vous pouvez installer Windows to go sur une clé de 16Go minimum
Prérequis
Une clé USB de 16 Go minimum (32Go conseillés) et en USB 3.0 de préférence.
Un iso de Windows 8 ou Windows 8.1
L'application >>>WinToBootic<<<

Création d'une clé Windows to Go
Après avoir téléchargé la dernière version de WinToBootic, munissez vous de votre clé USB et insérer la dans votre ordinateur.
Attention, lors de cette manipulation, votre clé USB sera formatée. Toutes les données seront effacées.
Exécutez WinToBootic et sélectionner votre clé USB depuis l'interface du logiciel.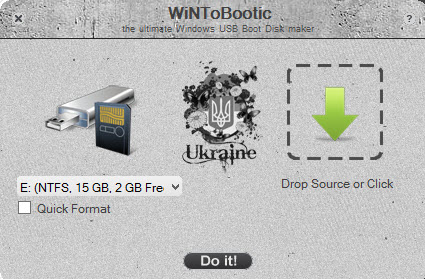 Ajouter votre ISO de Windows 8 dans WintoBootic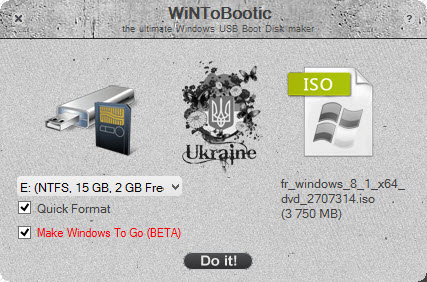 Sélectionner "Quick Format" et "Make Windows To Go" puis cliquez sur "Do it!".
Ensuite, il va falloir être patient… très patient… !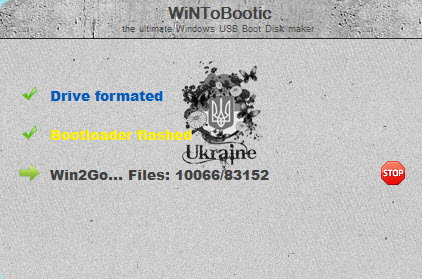 Une fois la clé terminée, vous pouvez maintenant l'utiliser en la connectant sur un ordinateur et bootant dessus.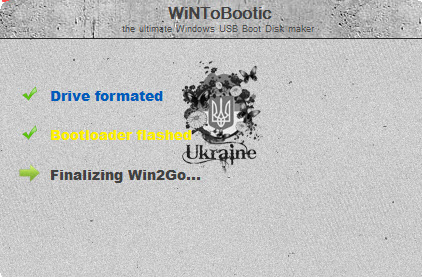 Mikaël_Tech2Tech